Where are we now? Library in the Secret City, Oak Ridge, TN.  The film festival is done.  We did not get an award, but several people came up to us and told us The Hitchhiking Movie was kick-ass.  Phil and I cringed through scenes that we would have changed – the intro was too long, oh my god that joke did not go over well, my god what the hell were we thinking putting that scene there, the music needs some help – but it did not matter.  There were loud guffaws during the screening.  People were fascinated with the journey.  They bought DVDs afterward.  In fact, over 1/4 of the people who saw it bought a DVD with comments such as, "I loved this; this was great," and, "I'm gonna get this for my daughter," and of course the, "I wish I could have done something like that."
I Wish I Coulda Done Something Like That
That phrase seems to be our mainstay.  I am in the audience, I am watching the man who took top honors for the festival.  He made a film called That Evening Sun with Hal Holbrook.  Oh my god, I mean, may I drop dead here Hal Holbrook is the greatest actor who has ever lived.  Go to the website and then get your ass to a screening of that movie.  It is, holy shit, I mean I am nearly crying thinking about it.  If you ever saw Clint Eastwood's Gran Torino, with his portrayal of a grumpy old man dealing with approaching death, all I can tell you is imagine that performance amped up four hundred thousand fold, smoothed over with a beautiful sunrise and a down pillow, hardened by the fires of hell and smelted by the cruel cool winds of real life.  It blew Clint's performance into the Adriatic Sea.  Then it set its remains on fire, and those remains sank to the bottom where they were fed upon by fish and sharks and horrible squids.  Then those fauna shat the remnants of Clint's digested performance out, and the droppings were obliterated by an underwater fire bomb.  I don't know how the fire bomb got underwater either;  just… Holbrook's performance was that good, it really was.  Go see That Evening Sun (it'll be in select cities in November) whichever way you can.  Best performance… ever.
I continue watching the executive producer take top honors with his Audience Favorite Award and his Judges Choice Award and his Best Southern Film Award and Best Feature Film, Best, Best, Best…  The Hitchhiking Movie wins nothing; only people coming up to us telling us they enjoyed it and would like to buy it.  And then, of course, the phrase:  "I wish I coulda done something like that."  And then I relax.  We did not win top accolades but we know we are tapping into something.  The people who read this blog love life and know that The Hitchhiking Movie and The River is Life blog are… life.  People come back to this site because they want a slice of that life amped up and lived out.  We know we choose interesting and provocative ideas – paddle down the Mississippi River, hitchhike across the U.S., find out how not to go to hell, have religious experiences on Ayahuasca in South America, go and live with the street children of Mexico City for a month, cross the U.S./Mexico border with a real life illegal immigrant family…  These are some of the ideas we are kicking around; this is what we want to bring to you.  This is our contribution to you.
More on the film festival later.  Y'all ready to end this Mississippi River Trip!!!!  Me too.  This is the end!  Here's how we got from New Orleans to the Gulf:
The End Game – Part II
"This is the end, my friend." – Jim Morrison
New Orleans.  Phil snaps a photo of me with the city skyline in the background.  I look sullen and angry.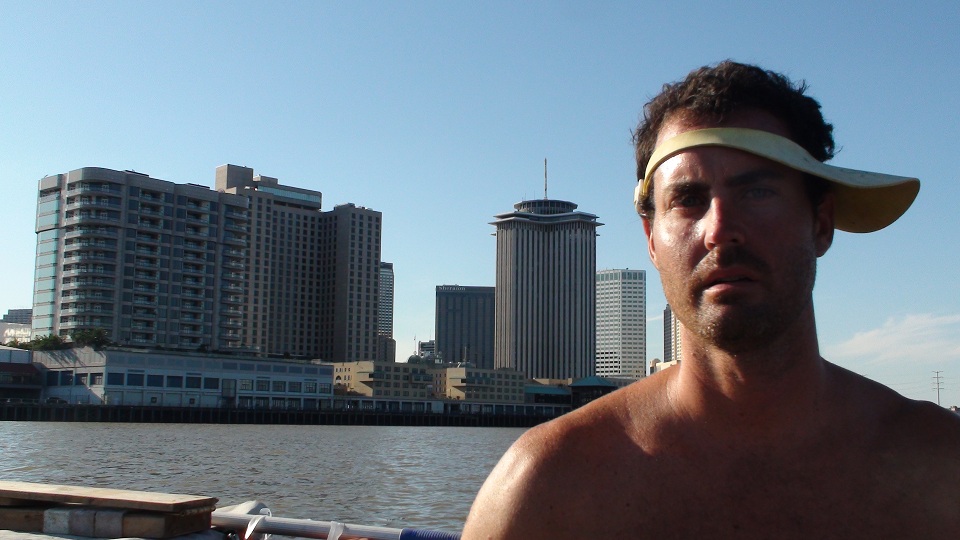 I don't know why I know but I know I have to keep my emotions in check.  I know I can't get too excited this close to the finish line.  I know this is where missions are failed – celebrating too early (George Bush, anyone?).  I remember the Obama Campaign gave this video

to its campaign workers one week before the election.  I did not want to be that guy on the bike, I did not want to get complacent.  It was possible – great ventures have caved in in the final minutes.  We had to focus.
The West Bank
A reporter calls.  She asks if we're camping on the West Bank, and I laugh.  Yes, and there is sporadic gunfire from the Palestinians!  Come quick! She wants to interview us but we'll have to wait for her till tomorrow.  Great ventures are lost in the…, goes off in my head.  This is a delay, I decide.  I tell Phil what the reporter wants to do.
"What do you think?" he asks.
"I think it's a trap.  I think we go.  I think we don't worry."
"Me too."
We go.
The Wind
The wind is a bitch, flat out.  Phil (different Phil) and Rich of Huckleberryfinn09 knock our inflatables (who hasn't?).  "I mean," he says, "that's like paddling a feather out there.  You'll be blown around."  We already have been, my friend, we already have been. We don't have the right boat but we're pressing on.  Reporters will not stop us now, wrong boat will not stop us.  We will make the Gulf.
The Waves
The waves get horrible in the last few days.  They are whitecapping.  Phil and I fight over middle of channel (more current) or paddle along the bank (less waves).  We compromise and follow the bank with short trips into the waves.  My forearms are jelly.  The Miss'sippi is throwing everything at us these final days.  "You want it?" She whispers.  "You really want it?  You gonna have to get it… the hard way."  The next day the wind picks up more.  There are no more barge captains offering us beer and Gatorade, congratulations and macaroni and cheese.  Past New Orleans, barge captains have no reason for being.  Only ships, giant ships, who have nothing better to do than barrel down the channel at 45 mph.  We are a blip on their radar.  We are a blip on their bow if we are not careful.  We have nothing to do… but make the Gulf.  The wind blows harder.
The Threat of Silence
A trip such as this thrives on noise.  Cool things happen and I can write about it.  Noise.  We call the radio, TV and newspaper stations and we are noisy – "We're doing a trip, we're doing a trip, we're doing a trip!"  The threat of silence (What will we do when the trip, the noise, is over?) is looming.  I remember a high-school friend who dropped out with one month of class to go.  Why?  The threat of silence.  What would he do when high school was over?  What, I mean, what!  He didn't know.  He'd have to take a trip into the silence.  That was scary.  For three months I've been living in a tent, living in strangers' homes, paddling, paddling, paddling.  The Gulf would mean the end.  That was scary.  There would be silence.  We would have to move into the silence.  Will people still read our blog if there are no more waves and fights and barges?  What will happen to us?  What is in the silence?
I gotta keep goin', I think to myself.  For better or worse, the silence will not beat me.  I will join you, Silence; you will not beat me.  We will become one at the Gulf.  Throw wind and waves and ships all you want; I will join Death (and if I'm lucky, Rebirth) on the other side.
Phil Takes a Chance
"I'm gonna get Pizza," Phil says in Empire, LA (thirty miles from the Gulf), and I don't like it.  I don't know why I don't, but I don't.  The Silence scares me, the fear of getting too complacent scares me.  "I don't…" I start and then stop.  Becoming too much of a hardass can be a barrier to your mission too. "That's cool, Phil," I say.  "Go for it.  I'll set up the tent."  Phil leaves happy; he's not as concerned as I am of the demons that can kill you at the end.  Maybe I should follow his example. I examine the tent poles.  I'm not going to put up the tent, I think and have no idea why.  Logic has failed me.  I think that I must go join Phil in the bar he has gone too.  I think I must leave the tents packed.  I feel I must go……now… there.  And I do.  The gear is lonesome in its package.  When we come back to camp tonight, we'll have to unpack in the dark, but I don't care.  Somehow it's all gonna be okay.  I don't know how, but it will.
Revelry
Reverie at the bar in Empire, Louisiana.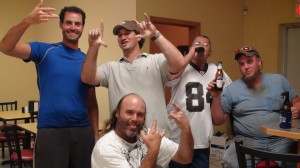 Phil has struck up a conversation with some boat captains.  One drives personnel out to the oil platforms in the Gulf, another pilots a barge, another is an oyster fisherman who slings stories of what he has or hasn't done between drunken ramblings and puffs on a doobie that the bar staff seems all too willing to permit in the broad moonlight.  It is a party.  Phil has bought me and himself pizza, and it is good.  The captains all want to know what we're doing, want to buy us beer, want to offer us showers.  It is all gonna be okay, I think again.  John is well-spoken.  Does he belong here? Wes is a conglomeration of gumbo and almost unintelligible Lafayette Cajun screaming and hollering:  "Ooooooo boy," he say, "y'all cain't leve dis herah plase wifout eatin' some crayfish – we  callum mudbugs – I'm gon' make y'all some gumbo too 'for you leave, ooooooooo."  Phil and I are laughing because Wes has the thickest Cajun accent we've heard so far.  He's almost like a cartoon character.  Buddy Love, the doobie smoker, is telling Phil he loves him pressing his forehead to his, and I nearly fall out of my chair.  Saints Fan is old and pruny and smiling like mad when we tell him stories from our adventure.  Wes offers even more places to shower (though we don't need them) and more Cajun cookout possibilities (though one would be enough), and John offers us a ride back to New Orleans after (which we will need, desperately).  Phil was right not to worry.  Worry is a demon as well; it can kill a venture too.  I'm glad I came here.
More, Even More
A man walks in with his Mexican wife.  Jeff Johnson, who I wrote briefly about in this post.  He tells us, "Damn guys, that's amazing, I wanna put y'all up in my cabin.  And I'll even help you get your shots of the Gulf and the sunset.  Shoot, guys, that's amazing."  His wife is silent, but I hope she approves.
Good thing I didn't unpack the tent, I think.  Jeff brings his big pickup and helps us pack all of our stuff in it.  His wife – silent.  He takes us back to his cabin which is amazing, gives us keys to his truck so we can drive ourselves to the marina (which is amazing), tells us we'll have showers and fried fish when we get back… amazing.
Phil and I take hot showers and air our gear out and rejoice.  Damn I'm glad I listened to you, Phil.  Only one more demon to slay and his name is Tomorrow.
Tomorrow
Tomorrow, Phillip says that we should take one boat.  Risk it all. "We might as well make this our last day."  "That means we'll HAVE to make it to the Gulf today," I respond.
"Yes, I know."
"Shit," I say spitting into the dirt, "let's do it."  One more demon, just one.
The Last Day
We leave early.  Leave nothing to chance. Driving to the nearby marina gains us seven miles but we will still have to paddle 40 miles today to make it to the gulf.  Our best in this type of wind, with these types of conditions, has been 28.  Shit, I think spitting into the water, bring it on.
There is a small lock we'll have to go through to get back out onto the Mississippi.  I remember the 20 or so locks I've gone through on the Upper River.  This one is about 1/100 the size.  That don't mean, however, dat duh lady who operates the mom-n'-pop lock don't have a Upper-Miss'sippi-Lock-sized ego.  She does!
Phil and I lock through the first set of doors; their height is about 7 feet.  I hear a rapping from somewhere.  "Do you hear that?"
"Yeah, look up."
It's an old, fat, craggly woman in glasses rapping on the pane glass of the observation deck.  "Yes?" I mouth.   She starts making wild hand gestures that end in a pronounced clap that I can only take to mean something or someone is getting smushed.  I give her the international, palms-in-the-air "I have no idea what the hell that means," symbol which sets her off into a frenzy.  Papers go flying behind her.  It's like watching a Glen Beck meltdown.  Yes, you want to do something; yes, you want to help; but, can you?  I mouth, "What do you want me to do?"
"Stop!" she barks.  I swear I saw drool.
Normally to be able to stop, there are ropes on the sides of the locks.  Not so here.  I paddle to the side and use my oar to scrape the side and slow us down.  That "stops" us more or less.  Phil and I hang tight under the watchful eye of Mordor.  We thought that was the end of it until…  The rapping!  Oh shit, it's back. Crazy lockmaster lady's bangs are bouncing with even more fervor.  She slams a homemade sign on the window which reads…
CONDITIONS ROUGH:  LARGE WAVES, WIND, DANGEROUS!
"I know," I mouth and turn away.  "We know," Phillip says and keeps looking at her.  "What's she doing?" I ask Phil.
"She's dropped the sign and is pacing back and forth.  I can't say for certain but I'm pretty sure I saw an S, F, and an I-word."
"I-word?"
"Idiot."
"Well, we may be, but ain't no demon (lockmaster wannabe or otherwise) gonna slay me today."  The double doors open and the Mississippi is as promised – windy, terrible, dangerous.
"Forty miles, brother," I say.
"Yup," Phillip says curtly.
He's not worried, and neither should I be. We're gonna finish this thing.  We're gonna go into the silence.
Part III coming up!  Stay tuned!