On June 22nd 2009, the 11 Visions team launched their paddling trip down the Mississippi River. Click here to see our updates and videos of our travels all the way to New Orleans. The trip finished October 4, 2009 and the DVD will be finished in August 2010.

2009 is shaping up to be an interesting year for the 11 Visions crew. Off the successful completion of The Hitchhiking Movie, we have decided to give you, dear reader, an even greater chance to share in the adventure.  This June we will be floating down the entire length of the Mississippi River and we want you to come along!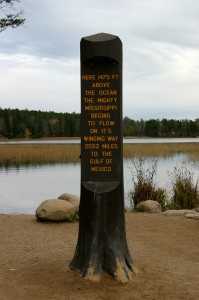 Ryan will be departing from Lake Itasca, Minnesota and floating all the way to the Gulf of Mexico!  That's right – two thousand two hundred and fifty-two miles of craziness just to entertain you!  We will be posting regular trip updates, outrageous videos, blog posts, and interactive games for you to play with.  Stay involved by signing up for our RSS feed or newsletter, and checking in regularly for the latest.
This summer, get a real time glimpse of what it's like to float the Great River on two Sea Eagle kayaks and sleep on the bank in [enter name of whoever sponsors us] tents.  (Anyone who starts playing the Brokeback Mountain song gets punched in the face.)  You will get to see how two experienced outdoorsmen (snicker) handle five-foot riverboat wake, water-treading black bears, and find creative ways to handle numbers 1 and 2.  (No, that's not going to be on camera!  Sick bastard.)
View Larger Map
Concerned for our safety?  You should be.  We have no idea what the hell we're doing, but that'll make great TV.  Bruce "Buck" Nelson, who paddled the River in 2001, gives anyone deciding to paddle the Mississippi two words of advice – pay attention.  So though neither of us is a Bear Grylls, we assure you there will be at least one set of eyes on the river at all times.
Timeline:
The total trip length is hard to estimate because the river speed varies along the course, but we are estimating it will take between 2 to 3 months.  I have prayed to Jesus, Buddha, several Norse gods and whatever god Tom Cruise prays to, that this trip not exceed October 1.
Equipment:
Phillip had owned a Sea Eagle Explorer for 9 years and said it had taken an absolute beating and still come through like a champ.  So I called them up and asked for new ones.  They saw The Hitchhiking Movie and said, yeah sure.  So we'll be taking two brand new Sea Eagle Explorers down the Mighty Mississippi.
We're also are getting a new video camera specifically for this trip. I've chosen the Sony HDR-XR520V which will supply us with amazing HD (sorta) images during the trip. An additional Underwater Housing should help keep it safe as well.
Your Job:
Your job is to come along with us this summer and join in the phone.  In fact you can send us an email right now at mississippitrip@11visions.com and wish us well or ill as you like.  Either way we'd love to hear from you.  But beware!  Positive or negative, we reserve the right to publish all mail.  Buahahahahhahahahhaahaha!  You have been warned.
This summer's going to be fun and we're glad you're coming along.  See ya on the river.
Ryan