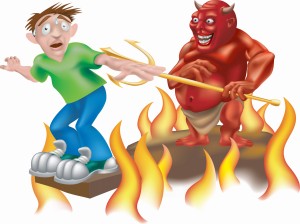 Concept
11 Visions meets a lot of different people over the course of our travels. One of the things we have noticed while interacting with all these people is that while religion is a unifying force for some, it's more of a dividing force for others. In our next film, we'll travel all over the United States interviewing people who are both passionate and knowledgeable about their beliefs.
Go to Hell? is a serious comedy that will focus on the concept of hell and how to avoid going there. You'll be entertained and educated by this unique adventure no matter what you presently believe.
The website will be launched shortly. Sign up for updates here:
http://www.gotohellmovie.com
Be in the Movie!

If you or someone you know would like to interviewed for "Go to Hell?" please e-mail us using the contact form. It's not necessary to be famous or have theology background as we're instead concerned with finding people who are passionate and knowledgeable about their beliefs. Here is a list of people/churches we would like to film:
people who believe with certainty that they know what will happen after death
people who's beliefs about heaven or hell are completely off-the-wall (you know who you are!)
people passionate and knowledgeable about a specific belief system (i.e. Christian, Judaism, Muslin, Mormon, Jehovah Witness, Scientology, Catholic, Science of Mind, Universalism, Spiritualism)
people who are Atheist or otherwise have no afterlife beliefs and are willing to say so in a non politically correct manner
religious people who would not typically be accepted by conservative Christians (LGBT community, etc.)
a Tennessee church will an old-fashion "fire and brimstone" preacher (we'd like to record the service)
a Canadian minister that lives near the U.S. border in Ontario, Canada
anyone who who has visited either heaven or hell in person, in vision, or while on drugs!
anyone from the Westboro Baptist Church ("God Hates America")
anyone from Sarah Palin's home church (Wasilla Assembly of God)
anyone from President Obama's home church (Trinity United Church of Christ)
Interviews have already been arranged in Kentucky, Tennessee, Georgia, Arkansas, Michigan, and New York. If you are in or near one of these states, we have a better chance of getting you into the film. Other locations will be announced shortly.
Hell
We'd love to visit hell in person and interview the people who live there, but we have been unable to find or gain access to the facilities. An alert reader pointed out a website listed people who have visited hell so we'll try to secure an interview with some of them.
A Note to Religious People

This film will not be an attack piece on any specific belief system. We are instead searching for why the differences occur between groups, pointing out the inconsistencies, and trying to create resolution. People of all types will be able to enjoy the movie and probably will not be offended–even if your beliefs are stupid. 🙂