First… The Thank You
Thank you.  From the bottom of my heart, thank you.  This was special.  This was a dialogue.  This was us entertaining you, and I think that's special.  I think there might not be a more holy union than two people, whether it be Phil writing to you or me writing to you, sharing in a common experience.  The experience you just shared in was called The Mississippi River Adventure.  The movie will be called The River is Life, and the whole experience was great.  On the river, there were gay couples, there were barges and spirit canoes, fights between me and Phil, media coverage, F-words, Z-words (you know, words that start with Z), there were nice people in Natchez, mean people in Greenville – there was this entire river full of people and life.  We hope we brought the River to life for you.
Second… The Please
Please, if you enjoyed this blog, if you enjoyed this journey, I'm asking you to give.  Reflect on the value you have gotten from this journey:  Did you have a good time?  Did you see what you wouldn't have seen, hear what you wouldn't have heard, go where you couldn't have gone any other way but though reading this blog?  Did we entertain you!  Where did we take you?  Where were you able to go because two crazy guys grabbed a couple of paddles and went down the greatest river in America bringing it to life in a fun and entertaining way?  What feelings did you feel?  The spirit canoe – were you touched?  The Adventist adventure – did it make you think?  The shotgun in my face in Prairie du Chien – were you scared?  I was!  Did you go on… an adventure?  I hope so; in my heart, I know so.  Now I'm asking you to make a contribution, whatever your heart dictates, for the value you have received.
Phil and I are going to keep doing this – entertaining you through the power of adventure.  As I've stated in the two previous posts, we're not done:  The Go to Hell? movie is coming up, the Mexico City Street Children movie is coming up (we'll be actually living in the Mexico City sewers with the orphaned children).  This blog  and the movies we produce will continue to provide a plethora of entertainment, education, and chance for reflection.  So I'm asking you to give.  I'm asking you to give as we have given to you.  Whatever this journey has been worth to you, please donate here.
We're Going to Sweeten the Pot!!!!!!!!!!!!!!!!!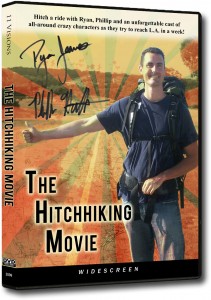 We want to give to you some more!!!  As a special thank you to those who donate $50 or more, Phil and I will give you a signed copy of The Hitchhiking Movie, our first feature film.  If you know nothing about this film, this is what some have said about it:
The Film Doctor (10/9/2009) – "a winning indie effort"
Culture Kills (10/1/2009) – "the essence of independent documentary film making"
SPL!NG (9/13/2009) – "more real than reality TV itself"
And we're going to give it to you FREE! (a $17.95 value) with your donation of $50 or more.  But, Ryyyyannnnn, I don't have fifty bucks!!!!  Das okay, baby!  I understand.  Please give what you can.  Ask yourself if you were entertained, and then give what you can.  For everyone who donates any amount, I will send a personal thank-you email.  In fact, thank you now!  Isn't this is fun!
That's Not All!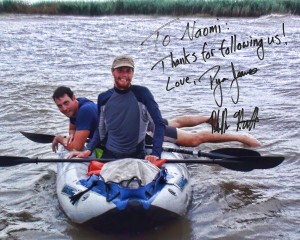 We're not done!  If you contribute $75 or more to help keep the great entertainment on this site going, we want to give you something else!   Phil and I will give you an autographed and personally dedicated picture of our finish at the Gulf of Mexico!  That's us right there!  Those are the actual Louisiana marshlands behind us!  This picture is a symbol of adventure; it encapsulates the excitement of not just a paddle down the Mississippi but the joy of adventuring everywhere.  Just send us instructions for your dedication with your Pay Pal order, and own a part of the adventure today!
Recap
Donate anything at all – You get a personal thanks from us to you via email.
Donate $50 or more – You get an autographed copy of our DVD The Hitchhiking Movie, which includes bonus scenes, special directors' commentary, and the beloved DRUNK COMMENTARY! (Parents, make sure the kiddies are out of the room for that one :).
Donate $75 or more – You get the DVD and the photo commemorating the realization of a dream – to paddle down the entire length of the Mississippi River.  We hope to give you part of this adventure and make it as much yours as it was ours.
Own the adventure:  Please donate today!
Third…  The Promise
We promise to continue entertaining you to the best of our ability.  We promise to continue capturing the spirit of adventure in everything we do.  We promise to brighten your day by sharing ourselves, our heart, our travel with you.  Many people wrote me and said, "Thank you for taking me along with you."  That's our job; that's what we strive to do – to take people where they'd love to go if they had the time; that's what 11 Visions is all about.  The fun does not stop.  I have more to tell you about our adventures at our first film festival in Oak Ridge, TN.  You will get sneak peeks of the dailies from the river.  You'll receive new blog posts from our train-hopping adventure coming soon.  More, and more, and even more.  We want to give you more.  That's our job.
Ryan, How Can You Make Good on That Promise Right Now?
Good question.  By entertaining you right now, of course!  Ready for the Final Chapter in our Mississippi River Adventure????
Me too.  Let's get to the Gulf.
When we left off, a scabby, nasty old hag pinned her homemade PADDLERS BEWARE! sign to the window.  Jeff Johnson told me later that that same lockmaster had given him trouble as well.  Jeff works as a fishing guide and had 6 boats worth of clients trying to lock through into the bay.  Our lady in question denied them access citing that it was nepotism to let larger party groups through and that they would have to wait 2 hours for a series of single dinghies to go first.  Jeff was incensed.  He makes his living off showing clients a good time.  "Did you confront the old hag?" I asked him.  "Naw," he said, "what'd be the point?"  Too true.  When someone's Middle Eastern name is MUSTAVA STIKUPUR AZ, there isn't much you can do.
Old Crabapples opened the gate and, though she was nasty, she wasn't lying.  The conditions were absolutely awful.  Easily 3-foot whitecaps.  Phil and I gleefully paddled out into the middle of the channel.  It was fun… for a while.  Like being on whitewater.  After twenty minutes he turned to me:  "I'm tired."
"Um, buddy, we got 39 miles to go."
"Yeah, we're not gonna make it like this; these waves and wind are killing me."
"Shore paddle?  That's such a beginner thing to do."
"Any other ideas?"
"Nope."
The Mississippi was forcing us to go back to our roots – paddle along the shore just like we did when we were infant paddlers scared of the center channel.  The shoreline did offer relief from the waves but not the wind.  That was as strong as ever.  Sometimes God did bless us with a jutting point that would shield us (partially) from the gales.  But for the most part, it was a fight to the finish.  Mano y manos – the Miss'sippi versus us.
"I've just about had it with this rudder!" I screamed.  The night before, we consolidated all we would need into one boat.  It was ceremonial.  We dusted off the 11Visions Boat (the boat that had our logo on it) and washed it down.  Phil took out the inflatable floor and scrubbed it with care as he would an infant.  I tried to repair the torn decal that bore our website.  We were betting it all on black, taking one boat instead of two (the other would stay at Jeff's cabin).  We were betting that with less weight and less drag we could paddle the 40 miles to the gulf in one day.  The River and the Wind laughed at us:  "You may make it; but it ain't gonna be easy."
"What's wrong with the rudder?" Phil responded.
"You don't feel it cuz you're not steering the boat, but this f—ing thing is pulling hard right CONSTANTLY."
"I don't feel it."
"That's what I just frikkin' said!"  I was mad.  I had forgotten to secure the rudder with an extra pair of washers the night before.  Dammit! I thought.  Little things can make or break a journey; I know this, I should know this by now; why'd I forget! There was no why; I just had.  "Let's pull into this little cove," I said to Phil.
The Cove and the Dump
We pulled into a bay-like indentation 4 miles south of the crabby lady's lock.  There a middle-aged man with a sinewy build exited his car.  "Oh my god, well," he said dropping a stack of papers into the wind.  "Well," he said, "I, uh, um, yeah, what're y'all… what's this now?"  He'd forgotten his papers; they were blowing everywhere.  I ignored the papers and said, "Paddling…"
"…the Rivuh, no shit."
LOL.  What the hell?
"Look," he continued, "um, I um, yeah, I know this guy at the pay-puh [not a Cajun accent per se, but definitely Florida-Parish] I know um an' y'all need to talk to um.  I'm gonna snap some photos foist."  He got out a digital camera and started snapping pictures and asking questions.  "Now, uh, now, I also know, well now she's my girlfriend, this uh psychiatrist, an' y'all should talk to uh given that y'all's crazy enough to be out in dis weathuh!"  Phil and I laughed at the jibe.  "Right now," I said, "all I need is an outhouse or a protected space without sawgrass or burrs."  "Ooooo raght," he said, "If you need tuh take a dump, jus' go raght ovuh they-uh."  Ha ha ha!  Who says 'take a dump' to a stranger?  Ha!
When I finished, ahem, Phil was talking to both Take-a-Dump (that's a good a name as any) and a new guy.  The new guy was older, wiser and more present; not the scatterbrain Take-a was.  "Name's Yonke," he said to me and offered his hand.  "Better not shake," I said.  "Oooooh," he said and laughed.  Yonke (his nickname) regarded our paddling in these types of conditions as more or less normal and wished us well.  Take-a was still all over the place:  "Um, yeah, um, y'all need tuh be in the pay-puh heah an' also in the Times-Picayune [the big, scary paper of New Orleans]."
"I tried the Picayune, but they didn't respond; guess this story's not to their liking."
"No, uh, no, y'all needa person on duh inside."
Who? You? I mean I wish you could have been there, but this guy was absolutely laughable.  I really didn't believe that A. he knew the people he said he knew and B. he would do what he said he would do if he did.  I wrote it off and said thank you.
Ryan, You Ain't Always Right
After Phil and I finished the River, the Times Picayune called!  Holy crap!  I'm wrong!  Thank god I am.  Though neither Phil nor I have been able to locate the story online, I was there as Phillip interviewed with the reporter over the phone.  NOLA residents, if you saw the story in print, let us know!  Take-a, you came through.  Thank you.
Phil and I left watching Take-a drop more stuff and Yonke stand stoicly on the bank.  "Y'all be careful," Yonke said grandfatherly but smiling.
"We will!"  As I think back on this, I can still see his face.  He looks like a chiseled sculpture.  The wind blew that old face, but he was happy.  I hoped he was happy to see two young men taking on real challenge.  I hoped he was happy with me.  I don't know if you'll see this, Yonke, but your sternness gave me strength.  Take-a dropped his I-pod.
During our escapade with the two gentlemen at the bay, I had forgotten all about the rudder!!  Dammit! "Phil, I know you hate stopping, but we've got to; my right arm is on fire; my left arm nothing."  Phil sighed but acquiesced.   We stopped in front of the old Fort.  Phil went to take pictures while I did my best to use two pop tops from 1980s Bud Light cans dredged up by the river (Did Katrina do it?) as washers.  It was useless.  I nearly dropped the bolt needed to fasten the rudder on.  I turned to Phil:  "I'm taking that as a sign from God."
"What does the sign say?"
"It says 'tough shit, you're gonna have to paddle only on your right side today.'"
"I coulda told you that."
Phil was right.  The rudder repair would be a bust.
Right side!  Right side!  Paddle, paddle!  I'm still angry over the broken rudder, but there's nothing I can do.  I convince myself that the river is paddling on the left side for me:  Yeah, that's it!  I'm not having to fight to stay straight; I'm just doing half the work! Though I know it's bullshit, it does keep me from going insane.  I check the Navigation Charts.  "We need to make a decision here, Phil.  Which pass do we take to the gulf?"
The night before, Phil and I pondered over exactly how we were going to get to the Gulf of Mexico.  There are several options.  Our hero, Buck Nelson, took the longest pass possible.  He should change his name from Buck to Badass.  We, however, had a film festival to get to.  We were going to take the shortest pass.  "Let me see those charts again," I told Phil.
Our best bet, in order to make things easier on our host Jeff, was going to be taking the Red Pass.  "It's a fisherman's pass," Jeff told us.  "But y'all'd make things a helluva lot easier on me if yuh went that way."  Phil and I got to Venice and discussed it.  "It's gonna have to be the Red Pass," I said.  "Yeah, I'd like to take Buck's route past the Head of Passes into the long channel, but that's not what we came here to do.  Most guys stop their Mississippi River journey at New Orleans, if they even make it that far.  We're doing something greater, we're going into the sea.  At this point, we got a guy who's giving us a ride back.  I don't know how the hell else we'll coordinate getting someone else to pick us up.  So… let's just do it.  Let's call Jeff and tell him we're taking Red Pass."
Phil pondered it.  "Yeah," he said.  "Let's do it.  The point all along was the gulf.  So it's eight miles shorter – I don't care.  I think it's fate we ran into Jeff.  I think we're supposed to meet up with him at sunset."
"Screw the Head of Passes.  Let's just get to the sea.  That was the point…"
"…the whole time."
Phil and I recognized what we were about to accomplish.  With cell reception, albeit extremely crappy, in Venice, we called Jeff to tell him we'd meet him at the end of Red Pass.  "Oh, thank y'all," he said.  This was good, this was fate.
Past Venice
It is certainly a maze of passes if you do not know where you're going.  Phil and I made a few wrong turns and actually ended up paddling three more miles out of our way.  "Told ya I wasn't going to make this easy," the Mississippi said.  I know, I replied, but you know you won't beat us today… you know that now, don't you? "Yes," the Mighty Muddy chuckled, "I know now you're determined.  You were determined when your brother suggested you quit at Davenport.  You were determined when I threw rain at you, wind at you; I blew that little inflatable around like a leaf.  I knew you were crazy, but I also knew I wouldn't beat you."
So why'd you make it so damn tough?
"Ha ha ha." I got nothing from the River after that.  No communication, nothing.  Only silence.  As Phil and I paddled into the last four miles on Red Pass, I couldn't hear the River's voice anymore.  I would, at times, think I heard Him laughing or smiling or saying any number of things.  I heard Him laugh when my boat flipped on Lake Pepin.  I heard Him smile when the hot sun drove away the fog in Guttenberg, IA.  I heard him howl when Southern Illinois rain pelted us like mad, and screech when a nighttime barge almost hit us.  I've heard Him alot.  But now that the Gulf of Mexico was in sight, I could hear Him no more.  I could only see sea.  It was as if a new voice was beckoning, and it was large and ominous and… engulfing.
"There it is!  Oh my god!  That's the gulf!"
Phil and I paddled as if in a dream.  We were happy, but where was Jeff?
One mile more.  Happy, but where's Jeff?
One more, happy, Jeff?
Another, Jeff?
With no more than a mile to go I heard the rumble of a motor, and Jeff was in sight.  It was perfect, almost meant to be.  Had we taken the shipping lane after the Head of Passes, the footage would have been sotted with ships and industry, channel markers and fights for your life to stay clear.  It would not have been the poetry that Phil and I experienced when Jeff held the camera, steered his boat, egged us on to the final, shot the reeds swaying in the wind, shot the sunset, egged us on some more, and finally… shot us paddling, fatigued and elated, into the Gulf of Mexico.
I can't describe to you (well) what I felt.  It was like a wave of joy flowed over my heart.  I couldn't believe it was really over.  I implored Phillip to stand up in the boat.  "What do you want to do that for?" he laughed.  He was overjoyed too.  "I want to get a picture of us standing," I said.  Six-foot swells were rolling off the gulf.  "We can't…" he started but acquiesced.  I tried to stabilize Phil as we stood but to no avail.  As soon as a roller went under us he went in the water.  "Ha ha haaaaa!" I howled.  Jeff was laughing his ass off.  As soon as Phil got back in the boat I said, "This one's for you!" and jumped into the water, where the dolphins were hunting freshwater fish off the coast.  Phillip answered by paddling the boat away.  "You bastard!"  We were overjoyed!
"Congratulations, guys," Jeff said.  "Now come get your celebratory beer!"  Jeff had Miller Light for us (I'm a Bud man but who gives a scheisse).  Phil and I toasted and watched the setting sun beat its colors into the clouds.  Content – that's how I felt – so very, very content.  It was done.  We had done it.
Denoement
I thought for a long time, long in my mind.  I reflected and wondered if "just making it" was enough.  I have credit card payments, I thought.  I'm not famous. I don't know if anyone cares. I looked across the sky into industrial Venice as Jeff drove us back in his high-powered cigarette boat.  An oil refinery was burning gas in a torch of light.  "Hey, Phil, Olympics come to Venice."  "Ha ha," he responded but was mostly silent.  I was mostly silent.  There wasn't much to say.  We'd done it.  It was done.  Back at Jeff's cabin, we had fried fish and sweet potato casserole.  I chatted with some of Jeff's clients.  One told me I needed to read the book Blue Highways, which strangely I was already reading.  Another told Phillip that his vegetarianism reminded him of his wife, a Seventh-day Adventist.  "I am Adventist," Phil said.  All was quiet then.
The silence.  I had said in Part II that I was afraid of it.  Or, at least, I was aware that the silence would need to be filled.  And what if I didn't know what to fill it with?  But what to fill it with was not here yet.  I sat.  This is what I was afraid of, I thought.  This… is nothing to be afraid of. Cicadas chirped outside, and Jeff's over-sized fan drowned out the excess noise.  I could only hear muffled rumblings of voices, Jeff's clients, talking about this fish and that fish and this market and that market and when they'd be back in Texas.  I was alone.  I was silent.  I was in it.  It was okay.
I would say I drank it in, but there was nothing to to drink.  The silence was simply present; there was nothing to do.  It was almost like being underwater but even more peaceful.  All I could do was sit, sit and watch and wait.  When would the silence fade?  It didn't matter.  I was done with the Mississippi; and, I know now, the silence was my reward.
Jeff's wife, Gabriela, offered us more food, but I was in another world.  I was one of the few who had completed the Mighty Mississippi.  I looked at Phil and only nodded.  I think he knew what it meant.  It meant that the silence was good.  That we were good; and, for a brief moment, we were creators of our own destiny.
Thank you for following along.
I love you.
Ryan