"We're here for the hell house," I say.  She looks like I just farted in her face.
"Judgment house," she winces and holds her face into a permanent scrunch.
"Sorry, judgment house."  Scrunchy face leads us into the sanctuary, the waiting room for Tusculum Hills Baptist Church's Judgment House, an annual Halloween event and a walk-through simulation of hell on earth.
This is Phil's and my first experience with hell, or rather the prelude to hell because it took these jokers an hour and a half before they told us they had no idea when we'd be able to go in "because I've got a few groups ahead of you," she said and, "I don't know when y'all'll be able to go eeun, um, lemme check, are y'all walk eeuns?"
"Yes.  We're walk-ins."
"Oh well, groups take precedent…"
"I know, I've seen several people go in ahead of us (I must have been really anxious to see hell!) and we've been waiting for an hour."
"Well," scrunchy face continues, "there's nothing I can really do."  I wanna see hell, godammit!
I go back and sit next to Phil slouched in his seat.  More groups are trucking in and filing out almost as fast.  There's a pew full of Hmong or Cambodian immigrants over there – they go in, there's a group of trendy white kids over there – they go in, the women with bobbed hair go in and the Southern accents and the non-Southern accents go in.  Why do they get to go to hell and not me! Phillip and I stay put.  A young black kid virtually lays on the seat.  "Bored?" I ask.  "Uh huh," he nods and I laugh.  "What'd the woman say?" Phil asks.
"She said she didn't know when we'd get to go in."  A mixed bag of Hispanics possibly filipinos (neighboring churches) gets led out of the santuary, and I've had it.  "Doesn't look like we're going to hell tonight."
"Well that sucks.  The nerve of these people!"
"I know, these church groups have already come to Jesus; we're the customers they need to take care of."
"I know, right?  I've never had such crappy service.  I'm never going there again."
"Who do they think they are?  They totally lost my business.  I'll get Jesus somewhere else!"
"For real."
Try #2
First of all, try #2 was successful (you can see it in the video above).  We got to see a hell house, or rather an "illustrated sermon" (preacher + live theater + pyrotechnics apparently = illustrated sermon) with a, um, very strong hell theme.  Rev. Maury Davis, whose organization Cornerstone Church did a MUCH better job of filing us into their marketing opportunity and getting our contact information (Phillip filled out a card, and maybe they'll call us in a day or two.  Much better service!), scared the shit out of us AND offered a way to take the pain away – you got it – Jesus de Veracruz.
Coming to Jesus
It took me a while but I figured it out – Jesus takes the pain away.  While listening to this sermon I experimented a little bit with their ideas – take Jesus into your heart, give your life over to Christ – and I must say that the results were mostly positive.  A lot of you aren't going to expect me to say this but when I "let Jesus into my heart" as instructed, I did feel better.  I felt like there was a glowing coming from the center of my solar plexus.  It felt extremely positive!
Then the bad parts…
Okayyyyyyyyyy, now the bad parts.  This will scare the shit out of you.  Yes, this happened in church.  Um, I don't know how I feel about all this yet.  "Give your life over to Jesus," may be true, but this, this…  I don't know.  Make sure you've watched the video above before you keep reading.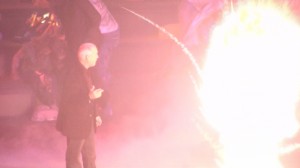 Do you need to scare people into religion?  Why can't you just focus on the good parts of Jesus?  "Because the people need the WHOLE truth!"  Really?  This is the truth?  I don't know.  The same Jesus that infiltrated my heart that day would not set his children on fire and rip their flesh out.  What would be the point?  "Toooo proooove that the non-believers are wrong!"  Does God really need to do that?  Is God so insecure that he needs to torture his own children?  "God doesn't do it; the Devil does!"  I don't care who does it; it's fucked up, and now I have more questions than answers.
Think about your own children.  If you don't have children, think about your future children.  Imagine that they do something horrible, something really really bad.  Do you forgive them?  Most of you parents/future parents are saying, "No matter what my child does, I will forgive them; nothing they can do or not do will make me withhold my love for them!"  OK, forget them doing something bad.  Imagine that your child comes to you and says, "Mom, Dad, I want to be Buddhist, I want to be Muslim, I want to be atheist…"  Even if you didn't agree with your son our daughter, even if you KNEW that they were wrong, would YOU set them on fire?
Would you take a knife and stick it into your baby son or daughter's stomach?  No, no, don't run away.  Think about it!  FEEEEL that knife in your hand turning in your child's stomach.  Feel it!
Would you rip out their intestines?  Feel it!  Feel yourself twisting that knife!
Pour gasoline all over them?  Burn them!  Cut off their heads!  Take a rake and rake off their flesh!  Laugh at them!
"God's not doing it; the Devil is!"  Okay, would you pay someone to do this to your child???
Would you, as a parent, even allow this to happen?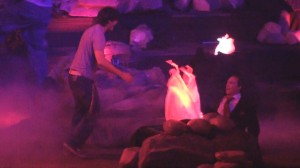 Even if you were in heaven, would you not give anything, do ANYTHING! to get to them?  Help them?  Save them?  Would you look upon a God who had sent your son or daughter to this torment with loving eyes?  Would you not look upon Him and say, "What are you doing!  Please!  Please, stop!  Please don't do this to my son!  Please send me instead!"
And you would love a God such as this forever?
I would never send my own child to hell for ANYTHING! he could ever do.  Would you?  Would you send your child to eternal torment?  Think about that for a moment:  Are you more compassionate, more loving than an ALL-LOVING BEING?
YOU, AS A PARENT! WHAT WOULD YOU DO????
Really imagine pouring the gasoline on your child's body! lighting the match!  Could you do it???? – for not believing something?
Sorry to hit you over the head with this, but these are some questions I need answered.  "But Ryan, we cannot understand God's way."  Maybe not, but I know how imperfect I am, and I would not strike that match.  Would you?
Some religions interpret the clause mentioning "eternal damnation" as eternal death – that, yes, God casts you into the lake of fire, but that's it.  You are dead.  God gets rid of your sinnin' ass and adios.  No eternal torment.  Damnation = death.  You're gone.  You're otta here, sayonara.  I can believe in a God that does that.  I can believe in a dog who's gone rabid and is a danger to himself and others, whose owner decides the best thing for all would be to put the poor animal to death.  But think of what we would do in our society to the owner who tortures his or her animal with the excuse, "He was just too bad.  I needed to teach that dog the error of his ways.  I needed to poke him with sticks and shock him with a taser, then I cut off his limbs and soldered them so I could keep goin',"  Getting sick?  You should be. If you're an advocate for hell and eternal damnation, that's exactly what you believe in.
11 Visions, What Happened to the Happy, Fun Times?
I know we're bastions for fun and happiness and adventure; but, this, ladies and gentlemen, is an adventure too.  It is an actual walk into hell.  Perhaps the realest exploration of hell that anyone has ever embarked upon.  There's a scene in The Da Vinci Code where Sophie asks Langdon why these people are trying to kill them.  Langon explains that it doesn't matter if this stuff is real or not – they've entered a world of people who BELIEVE it's real.
Whether or not hell is real matters not.  Many people believe it is; and that, therefore, is a world we must explore.
We're not backing down.  We will explore.  This may be 11 Visions' weirdest journey yet.